Outgoing West Australian Pork Producers' Association President, Richard Evison, highlighted the growth of free range pork in his report to WAPPA's 2015 AGM.
Mr Evison, of Westpork, who did not offer himself for re-election after 12 years on the Executive, stood down at last week's AGM and was replaced on WAPPA's Executive Committee by Emalyn Loudon of Cuballing, who joined producers Graeme Dent, also of Cuballing, Dawson Bradford of Popanyinning, Torben Soerensen of GD Pork and Dean Romaniello of Craig Mostyn Group.
A new President will be elected at WAPPA's next Executive Committee meeting.
"I believe free range pork is still a growth area, with WA continuing to supply eastern Australia," Mr Evison said.
Speaking about quality standards in the industry, he declared he was a strong advocate of Australian Pork Limited's APIQ program, which he said provided food integrity and consumer confidence, but he questioned APL's move to include environmental compliance.
"It's already covered by other authorising bodies and this move risks over burdening producers with duplicate requirements and moves away from its core value.
"I believe the APIQ program needs to be embraced by all pork producers for it to have value to industry and consumers," Mr Evison said.
WAPPA Executive Officer, Jan Cooper, in her report to the AGM, highlighted several key issues she was tackling, including biosecurity, a second labour agreement and barriers to growth, especially 'red tape' and the cost of doing business.
"It is very clear that the expected growth in the pork industry will stall if planning and environmental approvals get in the way to the extent they have with some current well known cases," Ms Cooper explained.
WAPPA's AGM was part of its very successful 2015 industry day at South of Perth Yacht Club, which was attended by about 60 producers and industry stakeholders.
Speakers included Roger Campbell of Pork CRC, Andrew Spencer, Tony Abel, Pat Mitchell and Ashley Norval, all of APL, Jae Kim of DAFWA, John Walters of MSD Animal Health, Greg Mills of Food Integrity Solutions and Meg Donahoo of Boehringer Ingelheim.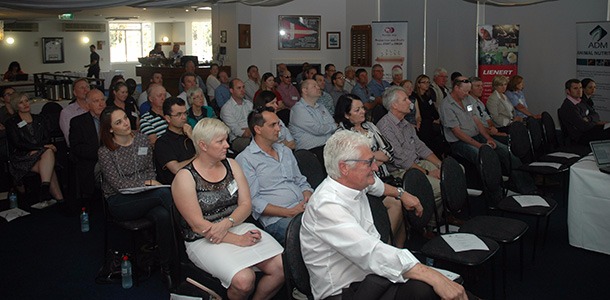 About 150 people attended WAPPA's annual industry dinner in the evening, at which a Certificate 3 in Pork Production, a 15 unit competency course run by Portec and CY O'Connor TAFE, was presented to: Bob Velasco, Gamby Ramirez, Merly Paurillo, Robert Mercardo, Michael Cockram, Ceferlita Vicedo and Lyndon Dumaguin, all of Westpork; Ramil Sanchez and Melanie Olan, both of Craig Mostyn Farms; Mathew and Justine Whyte of Quairading; Sandy Nicholls of Doodlakine; Madison Davey of WA College of Agriculture, Cunderdin and Sarah Loresch of GD Pork.
The 2015 Ron Pollard Memorial Award was presented by Ashley Norval of APL to Samantha Sterndale, an APL supported Murdoch University Masters student who is currently working at Department of Agriculture and Food WA.
October 7, 2015 - Wappa