Some farms, if not many, are sometimes in need of moving sows from the mating/early gestation area to gestation pens. This involves moving them from stalls to pens with a lower number of gestation days than desired and the problems this involves. I have even come across farms that mated their sows in the stalls, and then moved them to pens on the third day of oestrus, with very disappointing pregnancy diagnostic results.
Table 1. Number of piglets born according to where the sows were inseminated
Mating week

Fertility of the

weaning batch

Location

No Sows

Total Born
Born Alive
15
93%
Stalls
55
11.5
10.3
16
98%
Pen
43
12.6
11.2
17
93%
Mixed
41
12.0
10.7
22
95%
Stalls
44
12.1
10.9
23
96%
Mixed
52
12.4
10.5
24
94%
Pens
48
12.8
11.1
25
98%
Stalls
50
12.0
10.3
In weeks 15 and 17, sows were moved on the 3rd day post-mating, whereas in week 16, the sows were moved into pens straight after weaning.
In weeks 22-23 and 25, sows that were mated in stalls were moved from the heat detection area to the mating area on the same day that oestrus was detected, and they were mated for the first time one hour later. In week 24, sows were moved into pens on weaning day.
As can be seen from the results, the fertility rates of the different categories were very similar, which allows us to break the myth that mating the sows in pens can be detrimental to fertility. Also, the weaning-to-oestrus intervals were very similar: 5 and 5.2 for pens and stalls, with only 1 and 2 sows respectively, left for more than 10 days. The number of total born was higher in sows that were mated directly in pens, which may be due to the fact that they did not suffer any type of post-mating stress: even after insemination (as in week 15-17), nor in their subsequent transfer to gestation pens, since those sows are already transferred with their pen mates, avoidig mixing, which does not happen for the sows mated in the stalls..
A very good solution ... weaning straight into pens
Since we have space problems, a very good solution is to wean one or several weeks straight into pens, according to the magnitude of the problem. This strategy allows us to gain a week worth of space, since the sows, once pregnancy has been confirmed, can be moved to the gestation pen area already as a group, and the pen can be used again to house the newly weaned sows.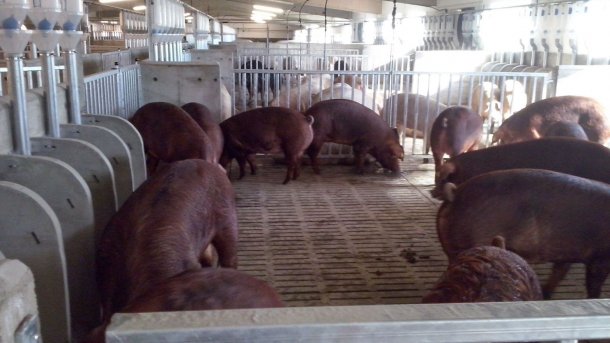 But ... how to do it? A practical example: A 20-sow pen
23-24 sows are housed in it at weaning (between 15-20% over its capacity) and extra feed rations provided. This way, pen optimization is maximized, making up for the possibility of some sows not coming in oestrus.
On day 6th post-weaning, sows that did not come on heat are removed (for example, 2 out of 24, which equals an 8%), therefore keeping 22 sows until pregnancies are diagnosed. If all sows come on heat, the 2 thinnest ones will be removed.
Assuming a weaning batch fertility goal of 93-95% —ultrasounds will confirm 1 or 2 returns and/or pregnancy failures—, this means we have managed to maintain the efficiency of the pen (between 19-21 sows).
If we use more than one pen, it is important to separate the small and thin sows from the others. This way, we can adjust the feeding and even out the competition. It is necessary to anticipate a worse estrus rate in the pen where the thin sows are housed, which is why we need to increase the number of sows placed inside.
In the farms where we have implemented this system, the results have been much better compared to the results obtained by moving sows after mating.
How to perform heat detection and mating sows in pens
The heat detection system used is the same as in the stalls: sows start to get boar stimulation on weaning day, but the boar will be introduced into the pen, therefore maximizing direct contact. If possible, it is advisable to work with several boars in both cases: in stalls, this will increase the stimulus and, if working in pens, heat detection will be quicker, since we can work in several pens at the same time, thus increasing the exposure time to the boars without increasing the working time employed. For example, if we work with three boars and consider a minimum boar exposure time of 1 minute per sow, the minimum time needed for 30 sows housed in 3 pens of 10 animals would be 10 minutes (one boar per pen), although the minimum time will, no doubt, be widely exceeded, since the time used to perform heat detection and move the boars will be higher than the minimum established. This is a positive situation since stimulation time is higher but, at the same time, we are optimizing our working time.
As far as insemination is concerned, the method to use when working in pens is post-cervical AI since, although the sows can move during the inseminating procedure, it is much faster than trying to inseminate them with the traditional method (it is impossible here to use any complements to speed up the insemination process).
Disadvantages of performing heat detection and mating straight into pens
The main disadvantage is how to feed the sows from weaning to mating, and even until pregnancy diagnostic, as more animals are housed in the pens in order to optimize the space. There is a great diversity of feeding systems, so I am not able to give a single solution, but I am sure that each farm will find a way to feed this temporary excess of sows.
Another problem we may find is the sows mounting each other as they approach oestrus. Little can be done about that, apart from using the farmer's expertise to detect and separate the sows that are being picked on the most, although organizing the pens by size and body condition will largely reduce these problems.
Data collection does not have to be a problem since the standing reflex makes registering the sows very easy.
Ultrasounds require a little more patience, because there will always be the typical hysterical sow. A good time to do it (if possible) is when sows are being fed.
Surely, there will be some other problems that can be discussed in the comment area.