History and the current status of the breed
The Bísaro pig is a Portuguese native breed belonging to the Celtic line—sus Celtics—that was maintained in its primitive state throughout the North of Portugal until the mid-twentieth century. This breed presents a slow growth, unfavourable carcass conformation and medium fat and has always been recognized for its high prolificacy, excellent sensorial quality of meat and aptitude for processing typical products. In the second half of the last century, industrialization of the livestock production has changed meat consumption patterns, and the Bísara breed has declined to be replaced by more productive breeds originating from the centre and north of Europe and Asia. In the 1990s, this breed was practically extinct and reduced to only about 100 breeding stock in small farmers in the North of Portugal. The first conservation and recovery programme for the Bísaro breed was approved and supported by the Portuguese government in the 1990s. From here, and following the establishment of the National Association for Bísaro Pig Breeders (ANCSUB) in 1994, the Bísaro pigs increased in number once again.
In 1996, a national plan for conservation and characterization of the breed was launched. This plan allowed the first regional census of the breed and the selection of some of the few existing breeding animals to form the two experimental conservation nuclei "in vivo" and "in situ" (in Guimarães and Montalegre, respectively). The census of Bísaro pig breed is presented in Figure 1. In August 2017, according to the breed herdbook, there were 189 registered farms of Bísaro pigs with 5460 breeding sows and 520 boars and an average heard size of 29 animals.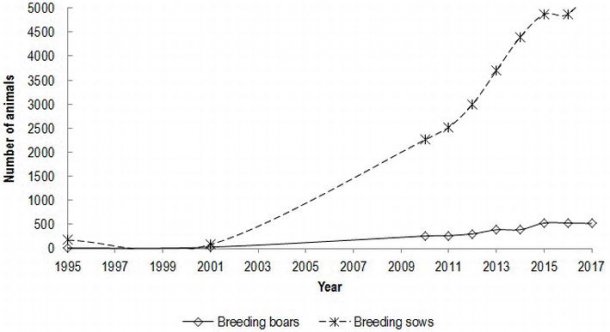 Today this breed is indexed to a diversity of European protected products, and the maintenance or an increase of the Bísaro population is expected. Nowadays the Bísaro pig is reared in a variety of production systems, mainly in small family farms or in medium-sized outdoor or semi-extensive farms.
Exterior phenotypic characteristics
The Bísaro pig breed has a large body and long legs, with flat sides, strong shoulders and a big head. They have very long and floppy ears covering the eyes, a long and concave snout and a convex back. This local pig breed has several varieties of skin colour; they can be grey or black and white or spotted. The Bísaro has a docile temperament, is slow and somewhat clumsy and is characterized by a convex back and large drooping ears. There are two varieties of Bísaro pig in Portugal: a white-spotted one, common in Minho, and a black- to grey- or black-spotted one, found in Minho, Trás-os-Montes and Beiras. The average live weight of adult Bísaro pigs varies between 180 kg in males and 150 kg in females; the values of the height at withers vary between 97 and 89 cm, respectively (Table 1; Figures 2 and 3).
Table 1. Summary of morphology information on Bísara breed.
| Measurement (average) | Adult male | Adult female |
| --- | --- | --- |
| Body weight (kg) | 180 | 150 |
| Body length1 (cm) | 190 | 170 |
| Height at withers (cm) | 97 | 89 |
| Number of teats | — | ≥12 |
1 Measured from the tip of the nose to the starting point of the tail.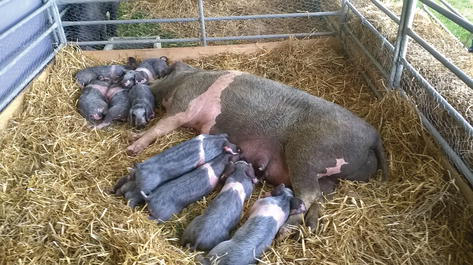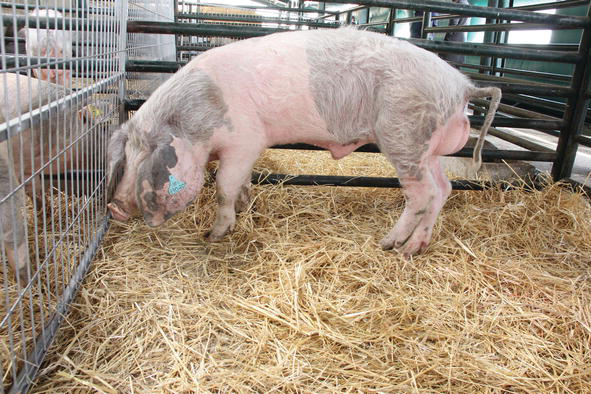 Geographical location and production system
The Bísara breed is scattered throughout the northern of Portugal, from the Tagus River to the border with Galicia (in Spain), but the highest concentration of farms and animals can be observed over the Douro River (Trás-os-Montes and Minho regions). Traditionally, Bísaro pigs were kept in very small family farms (1–2 sows per farm) where the pig is often considered an economic supplement for self-consumption and/or for processing artisanal products, sold directly to consumers and/or in small regional fairs (short supply chains). The traditional Bísaro feeding system includes diets based on a mixture of cereals (corn, wheat, barley, bran, triticale, others) and a large variety of forage foods, such as tubers (potatoes, turnips, beets), vegetables (cabbages, pumpkins, carrots) and grazing areas, where pigs can pasture different kinds of herbs and wild fruits (chestnuts and acorns). The nature of the raw feeds used in the traditional diets is a limiting factor of the herd size. Thus, the very small scale of the pig farms and the rudimentary buildings and animal facilities, which are poorly dimensioned, are the main weakness of this production system, limiting the farms' productivity and possibly impairing animal welfare.
Nowadays, the average number of sows per farm is 30, raised in traditional family farms (50%) and kept in semi-intensive outdoors or semi-extensive systems. In some cases, the housing systems combine housed (confined) and outdoor rearing systems according to the different physiological stage of the animals. Normally, lactating sows and piglets are confined (housed) in maternities, while pregnant sows are reared outdoors or in semi-confinement. Typically, fattening of Bísaro pigs to obtain high-quality meat products includes two growing phases: first, a fast to moderate growth up to 70–75 kg live weight (LW) and, second, a fattening-finishing phase until 120–180 kg LW, with variable diets depending on the availability of local food resources on specific farm and region. As alternatives to improve the traditional food, the incorporation of external input, for instance, cereals and food concentrates, has been developed. Growers and finishing pigs can be reared in mixed systems where animals are confined in an open-air park or in an enclosed stable with access to grazing areas of various sizes, depending on the availability of pastures and clumps. The growing-finishing phase can be classified as intensive, semi-extensive or extensive depending on the available pasture area and the stocking rate. The goal of the TREASURE project for the Bísaro pig in Portugal was to study the effect of outdoor production systems and to test some traditional agricultural crops in the fattening of Bísaro pigs and their impact on the quality of pork.
Productive performance
Reproductive traits
The use of a boar in small pig farms entails high economic costs. This is why some farms (less 5% of the farm and less of 20% of sows) are using AI with semen purchased from a semen collection centre. However, due to the great distance from the pig farms, there are logistic problems related with the shipment of the seminal doses that affect the efficiency of AI. In contrast, in small family farms (1–2 breeding sows), mating of Bísaro sows takes place in community facilities, by "the village boar". The sow is moved to the community farm for several days, until pregnancy is confirmed. Despite being economically advantageous, this reproduction system brings other technical problems such as increased inbreeding and farrowing interval and the risk of contagious diseases.
The first parturition of Bísara sows occurs between 10-12 months of age. On average, Bísara sows have 1.9 litters per year with 9.3 piglets born per litter, weighing approximately 1.8 kg at birth and 7.2-11.1 kg at weaning. Traditionally weaning is performed 60 days after birth, but can vary from 28-60 days, depending on the intensity of breeding practices. The mortality rate of piglets is very variable in the available studies, ranging from 5-11% at birth and 14-35% at weaning. In the traditional and extensive production systems, the interval between parturitions is prolonged as a consequence of farmer's management decisions, such as the increase in the age at weaning (from 28 days usual for intensive systems to 60 days in the traditional system) and more extensive rearing and feeding conditions. In this case the piglets are sold with higher weights and for higher price. However, this system is more demanding for sows which are forced to mobilise body reserves to a much greater extent, during lactation and the first third of gestation.
In the traditional farms, Bísaro pigs are fed with local agricultural crops, usually produced on farm. The feed regime for fattening animals is closely linked to the products and by-products of plants and forages of each region which is dependent on the annual cycles and harvests. Generally, in traditional system Bísaro pigs are fattened slowly and slaughtered between 1 and 2 years of age, reaching a high but variable slaughter weight (between 120 and 180 kg), which is scheduled for the coldest months of the year (between November and February).
Body composition and carcass traits
In general, the breed, age and weight at slaughter, the climatic conditions, the use of regional raw materials (acorns, oaks, chestnuts, grass and agricultural by-products) and the exercise of animals during grazing are the main differentiating factors of meat quality compared to modern pig breeds reared in intensive system. Traditionally, Bísaro pigs are slaughtered at weights well above the age of sexual maturity, when muscle growth has stabilized at the expense of greater capacity of deposition and infiltration of intramuscular fat (+60% monounsaturated fatty acids), an essential condition in order to develop the organoleptic characteristics that are highly valued by consumers.
Considering information available, animals are slaughtered between 88 and 124 kg live weight, and dressing yield ranges from 73.4-77.6%. The backfat thickness at withers ranged from 45 to 62 mm and at the level of the last rib from 19 to 42 mm. Also, muscularity, measured as the lean meat content varied from 46.1-51.0% and the loin eye area from 29 to 40 cm2, which indicates good muscular development compared to other traditional breeds.
Meat and fat quality
In studies reporting the Bísaro meat quality, pH measured in longissimus muscle at 45 minutes and 24 h post-mortem varied between 5.95-6.34 and 5.32-5.56, respectively. Other data on meat quality were scarce. The intramuscular fat content was determined only in two studies and range from 2.6-2.7%.
Use of breed and main products
Bísaro pork is much appreciated in Portugal, with many gastronomical uses. Meat is consumed in fresh on a wide variety of traditional dishes or transformed into a large number of traditional smoke cured products, such as chouriços, salpicões, presunto (ham) and other traditional products. Besides the diverse PDO and PGI products created from Bísaro pork, Bísaro meat is valued in the traditional cuisine, such as roast piglets or cozido à portuguesa cooked from heavy pigs.
Full text and references are available here: Bísaro Pig.
João Santos Silva, José Pedro Araújo, Joaquim Orlando Cerqueira, Preciosa Pires, Carla Alves and Nina Batorek-Lukač (February 6th 2019). Bísaro Pig, European Local Pig Breeds - Diversity and Performance. A study of project TREASURE, Marjeta Candek-Potokar and Rosa M. Nieto Linan, IntechOpen, DOI: 10.5772/intechopen.83759. Available from: https://www.intechopen.com/books/european-local-pig-breeds-diversity-and-performance-a-study-of-project-treasure/b-saro-pig