My shopping cart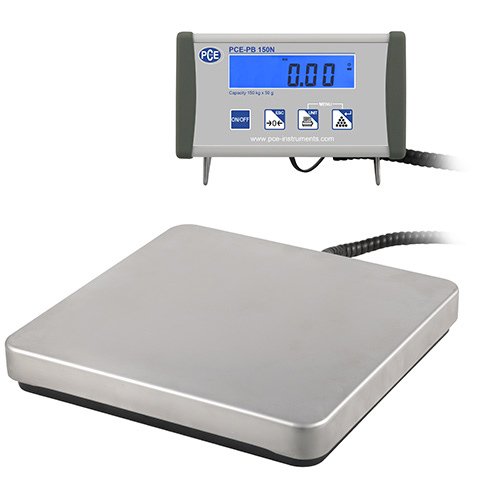 Platform Scale up to 150 kg
ref: 85product identity:

4250348711410
Pce
135

€
+ iva
The Platform Scale is an affordable scale for a weighing range of up to 150 kg. It is perfectly suited for occasional use. Ideal for weighing a litter and/or their growth.
Due to the display-unit which is located on a 1000 mm long coiled cord, the Platform Scale can be put on a table as well as on the floor. Since there are a wall bracket as well as a stand in the delivery content, the Platform Scale can be used versatatilely.
Technical specifications:
Weighing range (max.): 150 kg
Readability (d): 50 g
Minimum load: 150 g
Measuring tolerance: ± 200 g
Measuring functions

PEAK Hold
Multi Tara (full measuring range)
Filling level control (Auto Tara OFF)
Piece counting
Animal weighing
settable filter for a rapid response time
settable shutdown and backlighting

Display: LCD with 20 mm digits (backlit)
Display cable: 1000 mm coiled cord
Measuring units: kg / g / lb / N
Interface: USB bidirectional
Operating temperature:+5 ... +35 °C / max. 85 % r.h.
Power supply: 9V DC / 200 mA adapter or 6 x 1,5 V AA battery
Dimensions: 300 x 300 x 45 mm
Weight: 4 kg
Delivery content:
1 x Platform Scale
1 x stand
1 x mains adapter
1 x USB cable
1 x User manual
No comments about the product have been published yet. Be the first one to publish one!
Credit/debit card
Bank Transfer
Check
Free shipping in orders over €400*
*to Spain, Andorra and Portugal