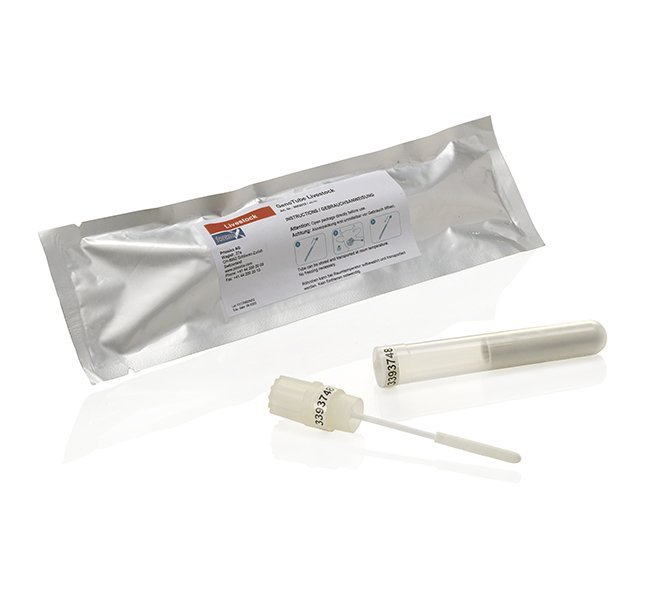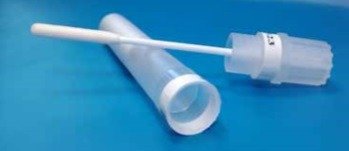 GenoTube Livestock Swab
The Applied Biosystems GenoTube Livestock Swab is easy to use and can be handled by even novice users.
+ Information
With its proprietary drying system, it rapidly reduces enzyme activity, preventing the breakdown of nucleic acids and proteins that are essential for many laboratory diagnostic procedures. Once dried, collected samples can be stored without refrigeration for simple and cost-effective transportation. In the lab, the samples can be easily reconstituted and used for numerous analyses.
Excellent sample quality—fast drying, not influenced by local humidity
Convenient versatility—capable of collecting different sample matrices, such as nasal swabs, oral fluids, blood, and fecal samples
Cost-effective—low transportation costs because refrigeration or rapid transport not required
Individually packaged—allows a unique identifier on both the swab cap and tube for clear identification and also reduces the potential for cross-contamination
Superior conservation—no degradation of DNA after long-term storage
Sample flexibility—sample can be used for antigen or antibody diagnostics (e.g., PCR, ELISA, etc.)
Genotyping applications
Collecting DNA samples for genotyping and sequencing using the GenoTube Livestock Swab is easy and rapid. After the swab containing the sample is placed back in the tube, the sample is dried, and the DNA in the sample is conserved. The tube can be transported and stored under normal conditions without refrigeration. DNA contained in the sample remains stable for years.
Related
Purchased frequently
+34 667.59.63.19
Credit/debit card
Bank Transfer
Check
Free shipping in orders over €400*
*to Spain, Andorra and Portugal