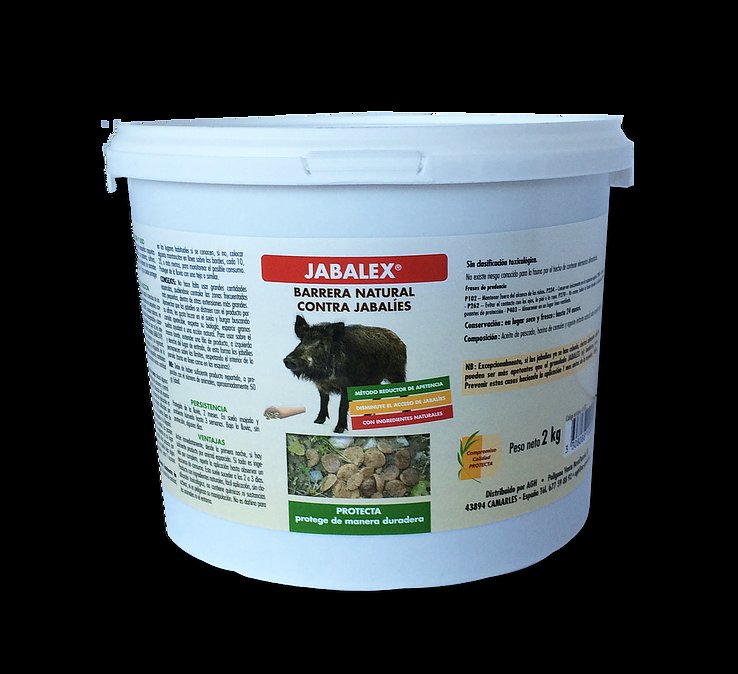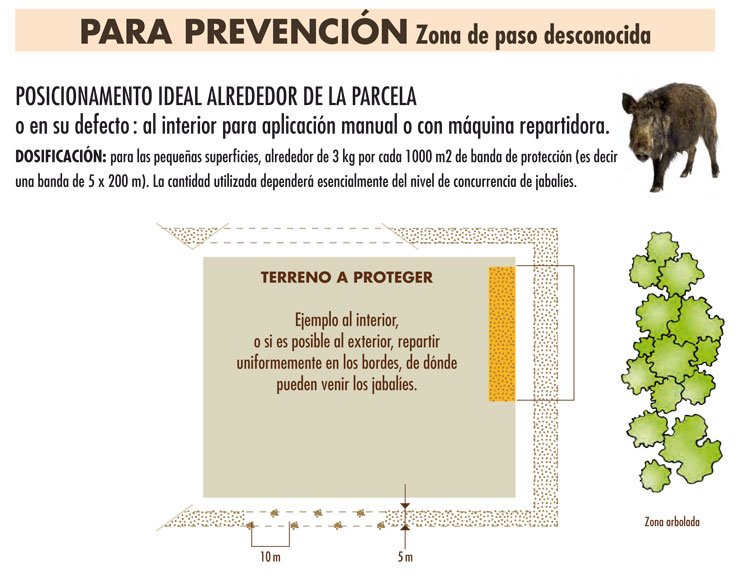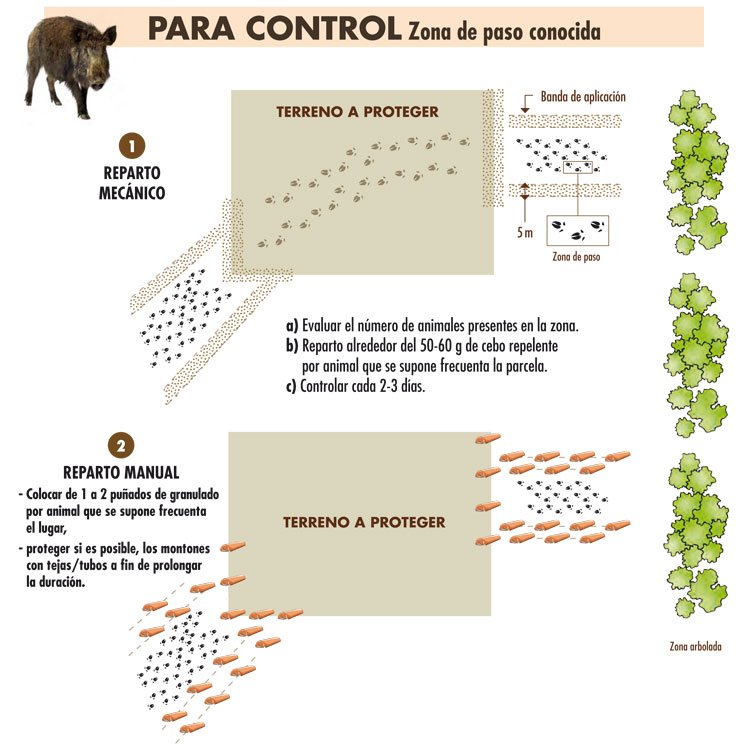 Repellent for wild boars, 2 kg
ref: 3241product identity:

3308088100054
Protecta
Granules that attract wild boars, that eat them, find that they have an unpleasant taste, move away from the treated area and do not come back.
+ Information
Mode of action:
The product is a highly attractive and very palatable feed. When consumed in small amounts (50 g per wild boar), the animals soon feel an irritation and they leave the place having been "punished". The animal that has eaten REP'CLAC will link the reaction to the specific place and will not come back. To be distributed as handfuls (protected from the rain) or randomly. It is preferable to use small amounts in several places than to concentrate a great amount in a single location.
Dosage and directions for use:
A) Control.

Lay small handfuls in parallel lines or spread randomly, depending on how we can make the best use of the surface (width, length…). Important: in order to be effective, this operation must be carried out in the points of access used by the wild boars when entering the area, 5-10 meters away from the boundaries. They will go away before entering the area. The usual passages are used to lay the repellent in a verified entrance path. Reinforce with some handfuls in the boundaries, every 10 metres.

B) Prevention

. Lay some doses (lower amounts) in the usual passages, if known, and around them, every 10 meters. They can be distributed forming a barrier.

It can be useful to treat smaller problem areas within larger areas, taking advantage of the attractive effect of the product to control the passage when placed in the appropriate places. We can "hide" some granules in the brush so the animals find the "testing" of the food more entertaining. To treat the boundaries, lay two lines of product perpendicularly, from right to left, to the point of entry, so the wild boars remain in the boundary but without entering, if we cannot do otherwise, or as a reinforcement of the treatment (this option is interesting in straight stretches and in the corners of the field).

N.B.: There must be enough repellent bait distributed if we can guess, approximately, the number of animals. Approximate dose: 50 g/wild boar.
Persistence:
Protected from the rain in the places where the granules/bait are placed so the animals eat them: 2 months. On wet floor: 2-3 weeks. Under the rain, without protection: some days.
Advantages:
It works immediately, as of the first night, if we have distributed enough product per animal. If all the granules have been consumed, repeat the application to avoid the barrier effect after 2-3 days.
It can be used in organic agriculture.
Related
Repellent for wild boars, 10 kg
ref: 3240
85.90

€

+ iva
Repellent for wild boars, 5 kg
ref: 3890
56.25

€

+ iva
+34 667.59.63.19
Credit/debit card
Bank Transfer
Check
Free shipping in orders over €400*
*to Spain, Andorra and Portugal