My shopping cart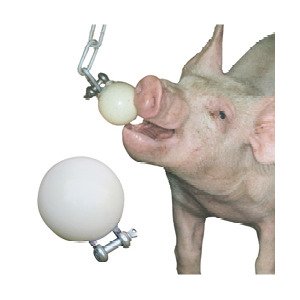 Anti-Bite ball diameter 55 mm galvanized
ref: 50
5.4

€
+ iva
in stock
The bite ball will act as a distraction aid which prevents pigtail- and ear bites and other behaviour or agression problems.

5.0
(

1

)
+ Information
Comments
Related
Characteristics Anti-Bite ball:
High quality and very durable
Made of polyurethane
This longlife synthetic material will deforms while playing with it, but it won't break
The bite ball can be hung up with a piece of chain combined with a shackle
Additional information:
Weight: 0.14 KG
Dimensions (mm): 59 X 57 X 54
No comments about the product have been published yet. Be the first one to publish one!
Bite Rubber (toy material anti-bite)
ref: 302
31.52

€

+ iva
Toy ball for pigs, yellow 30 cm
ref: 49
17.13

€

+ iva
Shackle 3/16" 5 mm, galvanized
ref: 2421
0.3

€

+ iva
Anti-Bite ball diameter 75 mm galvanized
ref: 779
5.89

€

+ iva
Credit/debit card
Bank Transfer
Check
Free shipping in orders over €400*
*to Spain, Andorra and Portugal