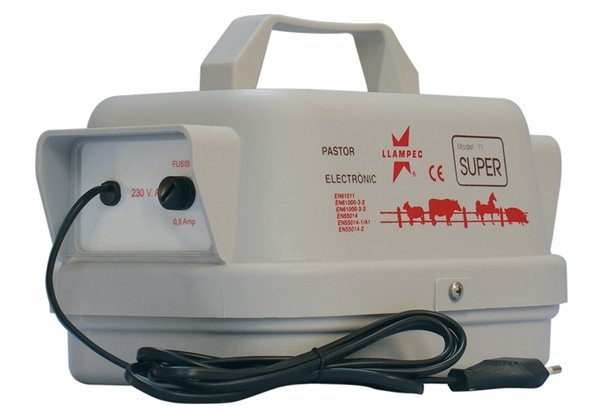 230V Mains Energisers 11 "SUPER"
ref: 1037product identity:

08436015730113
Llampec
• Recommended for use with: Horses, pig livestock, pets, beef cattle. • Real Output Energy: 4,6J • Stored Energy: 7J • Output Volts: 10.000 V • Distance Rating (based on a single wire line): 65 km.
+ Information
• "Electric Shocks indicator light" included.
• "Overvoltage Protection fuse" included.
• Protection Level IP-55/IK-07
IP-55 Protection: This protection level indicates that our energiser can get wet or dust can penetrate into it but these factors do not affect its operations because all the modules which form part of the energiser are completely sealed with special resins.
IK-07 Protection: This protection level is the degree of protection against impact such as falls, shocks, etc.
• Consumption: 4W.
• Weight (net weight): 1,7 Kg.
• Measures: 18x18x28 cm.
Related
Purchased frequently
+34 667.59.63.19
Credit/debit card
Bank Transfer
Check
Free shipping in orders over €400*
*to Spain, Andorra and Portugal