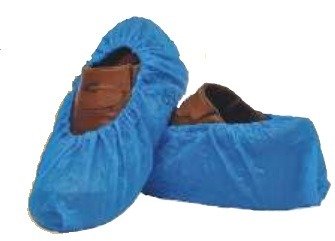 Overshoes 100 pcs
Made of Chlorinated Polyethylene
+ Information
Description:
Made of Chlorinated Polyethylene
Elasticated ankle.
Hypoallergenic.
Non sterile.
Dimensions: 15 x 41 cm.

Usage:
Avoids direct contact of the sole of the shoe with the ground. Used in sanitary environment, food industry, cleanrooms, etc..

Storage recomendations:
Store in a dry place and at temperatures between 10° and 30 ° C in its original packing.
Keep away from direct sunlight.

Waste Management:
Plastics and cardboards are 100% recyclable when discarded in the appropriate container.
Final users are responsible of an adequate management of the waste generated.
Related
Purchased frequently
+34 667.59.63.19
Credit/debit card
Bank Transfer
Check
Free shipping in orders over €400*
*to Spain, Andorra and Portugal