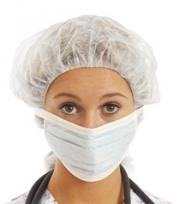 Mob Cap. 100 units
Transpirable. Double elastic band in head contour. Hipoalergenic. Non Sterile. Available in white, blue and green. One size fits all: 55cm diameter.
+ Information
Usage:
Keeps hair out of eyes and away from work area. Ideal for food handlers, food processors, pharmaceutical, institutional workers and other industries where hair control is necessary.

Storage recomendations:
Store in a dry place and at temperatures between 10° and 30 ° C in its original packing.
Keep away from direct sunlight.

Waste Management:
Plastics and cardboards are 100% recyclable when discarded in the appropriate container.
Final users are responsible of an adequate management of the waste generated.
Purchased frequently
+34 667.59.63.19
Credit/debit card
Bank Transfer
Check
Free shipping in orders over €400*
*to Spain, Andorra and Portugal