Pig Improvement Company España, S.A. (PIC), a subsidiary of biotechnology leader Genus plc, is a worldwide leader in the practical implementation of scientific and biotechnological advances to animal production, as well as in the sale of value added products.The group operates in more than 75 countries.
Semen Cardona S.L., is a leading company in the production and commercialization of pig semen doses in Catalonia and Aragon, with an important presence in neighboring regions and the rest of Spain. It also has an important semen doses distribution network, that it has specialized in providing customers with best biosecurity guarantees.
This new Gene Transfer Center with capacity for 300 high genetic value boars, has been carefully designed to achieve both, higher productivity and easier handling of males.
The AI stud Tarazona, is strategically located at the base of Moncayo Mountain - a low pig density area- and it incorporates maximum biosecurity measures, including in its design, the division of the facilities into 4 compartments that are independent, regarding personnel and air flow, including an individual air filtration system for each section. Tarazona stud will have its own laboratory equipped with the latest technology to meet the strict production protocols of Semen Cardona. Considering the size of the stud, which will become the largest ever built by the Semen Cardona group so far, the work of semen evaluation, packaging and quality control will be done in the laboratory of the stud itself.
It is noteworthy that, looking for self-sufficiency, cost reduction and respect for the environment, the new GTC is only supplied with solar energy.
The project also includes its own quarantines, designed for a constant flow of replacement boars, allowing the continued delivery of advanced genetic doses.
This important project is based on the principles of health, efficiency and optimum genetic dissemination, responding to the PIC approach that farm profitability can be increased, as to the extent that, improved genes flow quickly into the farms. In this way, boar culling policies will be taken based on genetic tools, that allow to determine, based on economics, when is the ideal time for the producers to replace their boars.
For both companies this agreement represents a great satisfaction and will certainly bring important benefits to the industry due to the high level of technology and genetic level involved.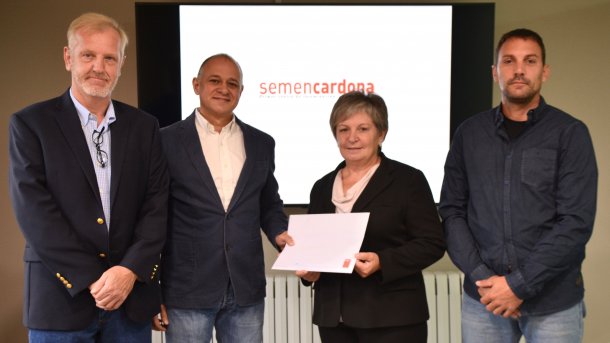 Mr. Wilson Pineda, Commercial Director of PIC Southern Europe and Ms. Angels Rial, Manager of Semen Cardona, as well as Mr. Jürgen Kramer, Director of PIC Europe and Mr. Jordi Coletas, Manager of Logistics and external markets, both participating in the drafting of the agreement, were present at the agreement signature.
Both companies estimate that the GTC will begin introducing boars next April , 2018.
September 19, 2017 - Semen Cardona.