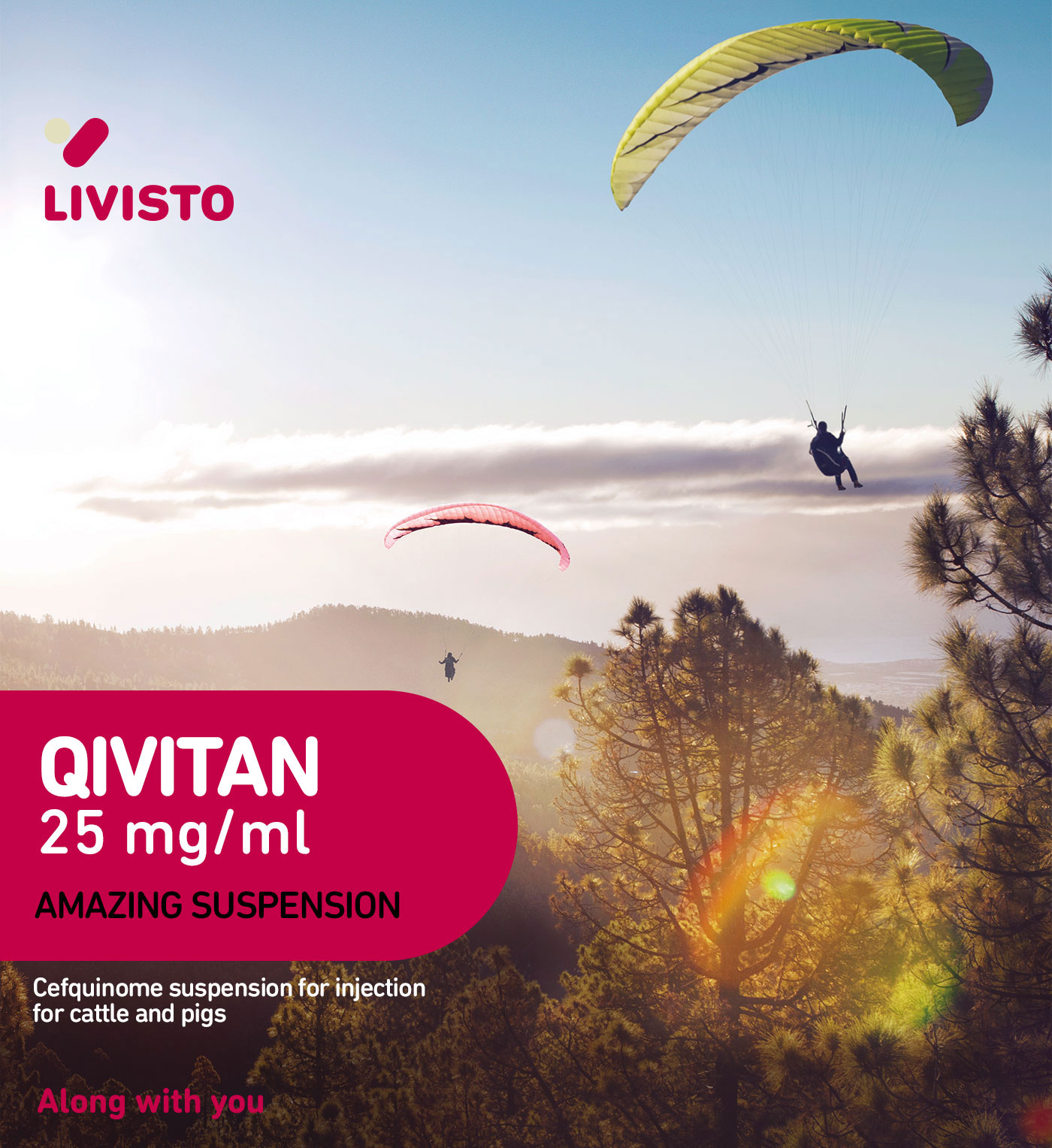 QIVITAN 25 mg/ml

is a stable suspension for injection of cefquinome that allows an easy administration on parenteral treatment. It also combines an excellent activity with short withdrawal periods for meat and milk, which makes QIVITAN the antibiotic of choice when/ where the fi rst line treatment has not worked.

Saves time and eff orts to the veterinary practitioner.

Guarantees an accurate dosage.

Ensures an easy and quick draw off and administration.

| | |
| --- | --- |
| Thanks to its high quality galenic formula, the sediment is easily resuspended with a few shakes. This formulation avoids caking, a process in which the particles in the sediment become interconnected, making it difficult to re-suspend. | |

QIVITAN 25 mg/ml is a
4th generation cephalosporin
with bactericidal activity
against Gram-Negative and
Gram-Positive bacteria
(broad-spectrum antibiotic)1
Cefquinome
Cefquinome was developed exclusively
for Veterinary use and has some advantages compared to third generation
cephalosporins (such as Ceftiofur, Cefoperazone)2:
• A much more stable -lactam group.
• Greater resistance to -lactamases.
• Greater cellular penetration.
• More activity against S. aureus, Streptococcus spp, E.coli, Salmonella, Pasteurella,
Klebsiella pneumoniae.3
• Greater cure rates than ceftiofur in respiratory disorders in pigs.4
INDICATIONS AND DOSAGE
Cattle
• Respiratory disease*
• Digital dermatitis, infectious bulbar necrosis and acute interdigital necrobacillosis (foul in the foot) 2 ml/50 kg b.w., IM 3-5 days
• Acute E.coli mastitis 2 ml/50 kg b.w., IM 2 days
Calves
• E.coli septicaemia 4 ml/50 kg b.w., IM 3-5 days
Pigs
• Respiratory disease* 2 ml/25 kg b.w., IM 3 days
• Mastitis-Metritis-Agalactia syndrome (MMA)* 2 ml/25 kg b.w., IM 2 days
Piglets
• Reduction of mortality in cases of meningitis caused by S. suis
• Arthritis*
• Epidermitis caused by S. hyicus 2 ml/25 kg b.w., IM 5 days
WITHDRAWAL PERIODS
Meat and offal
5 days.
Milk
24 hours.
Meat and offal
3 days.
* For more information consult SPC
QIVITAN 25 mg/ml suspension for injection for cattle and pigs
Qualitative and quantitative composition. 1 ml contains: active substance: Cefquinome 25 mg (equivalent to 29.64 mg cefquinome sulfate).
Pharmaceutical Form. Suspension for injection. White to slightly yellowish suspension
Target species. Cattle and pigs
Indications for use, specifying the target species. For the treatment of bacterial infections in cattle and pigs caused by the Gram positive and Gram negative microorganisms sensitive to cefquinome.
Cattle: Respiratory disease caused by Pasteurella multocida and Mannheimia haemolytica. Digital dermatitis, infectious bulbar necrosis and acute interdigital necrobacillosis (foul in the foot). Acute E.coli mastitis with signs of systemic involvement.
Calves: E.coli septicaemia in calves
Pigs: For the treatment of bacterial infections of the lungs and respiratory tract caused by Pasteurella multocida, Haemophilus parasuis, Actinobacillus pleuropneumoniae, Streptococcus suis and other cefquinome-sensitive organisms. Mastitis-Metritis-Agalactia syndrome (MMA) with involvement of E.coli, Staphylococcus spp., Streptococcus spp. and other cefquinome sensitive organisms.
Piglets: Reduction of mortality in cases of meningitis caused by Streptococcus suis. For the treatment of: Arthritis caused by Streptococcus spp., E. coli and other cefquinome-sensitive organisms. Epidermitis (mild or moderate lesions) caused by Staphylococcus hyicus.
Contraindications. Do not use in case of hypersensitivity to ß-lactam antibiotics, or to any of the excipients. Do not administer to animals less than 1.25 kg bodyweight. Do not use in poultry (including eggs) dueto risk of spread of antimicrobial resistance tohumans.
Special precautions for use in animals: In case of occurrence of allergic reaction, the treatment should be withdrawn. The use of cefquinome should be restricted to appropriate use according to the labelled indications in the target animal species. Inappropriate use of the product may increase the prevalence of bacteria resistant to cefquinome and may decrease the effectiveness of treatment with other beta lactam antibiotics, due to the potential for cross resistance. The product selects for resistant strains such as bacteria carrying extended spectrum betalactamases (ESBL) which may constitute a risk to human health if these strains disseminate to humans e.g. via food. For this reason, the product should be reserved for the treatment of clinical conditions which have responded poorly, or are expected to respond poorly (refers to very acute cases when treatment must be initiated without bacteriological diagnosis), to first line treatment. Official, national and regional antimicrobial policies should be taken into account when the product is used. Increased use, including use of the product deviating from the instructions given in the SPC, may increase the prevalence of such resistance. Whenever possible, the product should only be used based on susceptibility testing. The product is intended for treatment of individual animals. Do not use for disease prevention or as a part of herd health programs. Treatment of groups of animals should be strictly restricted to ongoing disease outbreaks according to the approved conditions of use.
Special precautions to be taken by the person administering the veterinary medicinal product to animals: Cephalosporins may cause hypersensitivity (allergy) following injection, inhalation, ingestion or skin contact. Hypersensitivity to penicillins may lead to cross sensitivity to cephalosporins and vice versa. Allergic reactions to these substances may occasionally be serious.
1. Do not handle this veterinary medicinal product if you know you are sensitized, or if you have been advised not to work with such preparation.
2. Handle this veterinary medicinal product with great care to avoid exposure, taking all recommended precautions.
3. If you develop symptoms following exposure such as a skin rash, you should seek medical advice and show the doctor this warning.
Swelling of the face, lips or eyes or difficulty with breathing, are more serious symptoms and require urgent medical attention.
Wash hands after use.
Adverse reactions (frequency and seriousness): Use of the veterinary medicinal product may result in localized tissue reaction. Tissue lesions are repaired 15 days after the last administration of the veterinary medicinal product. Hypersensitivity reactions to cephalosporins occur rarely.
Use during pregnancy and lactation: Laboratory studies in rat and rabbit have not produced any evidence of teratogenic, embryotoxic or maternotoxic effects. The safety of the product has not been assessed in cow and sow during pregnancy.Use only according to the benefit/risk assessment by the responsible veterinarian.
Interaction with other medicinal products and other forms of interaction: Due to an undesirable pharmacodynamic interaction, do not use cefquinome simultaneously with pharmaceuticals acting bacteriostatically.
Amounts to be administered and administration route: All treatments to be given by intramuscular injection. Studies have indicated the advisability of giving second and subsequent injections at different injection sites. The preferred injection site is in the muscular tissue of the mid neck. To ensure a correct dosage, body weight should be determined as accurately as possible to avoid underdosing. Shake the vial well before using. The veterinary medicinal product does not contain an antimicrobial preservative. Swab the septum before removing each dose. Use a dry sterile needle and syringe.
An appropriately graduated syringe must be used to allow accurate administration of the required dose volume. This is particularly important when injecting small volumes, for example when treating piglets. When treating groups of animals, use a draw-off needle. The rubber stopper of the vial may be safely punctured up to 50 times.
Overdose (symptoms, emergency procedures, antidotes), if necessary: Overdoses of 20 mg/kg/day in cattle and 10 mg/kg/day in pigs and piglets have been well tolerated.
Withdrawal periods
Cattle: Meat and offal: 5 days. Milk: 24 hours.
Pigs: Meat and offal: 3 days
Special precautions for storage Protect from light.
Nature and composition of immediate packaging 50, 100 and 250 ml colourless glass vials.
Marketing Authorisation Holder LIVISTO Int'l, S.L.- Av. Universitat Autònoma, 29; 08290 Cerdanyola del Vallès (Barcelona) Spain.
Marketing Authorisation number ………………….
Literature
(1) Summary of product characteristics
(2) R. Zamora Marin et al. Acta Medica 1998; 8 (1): 40-7
(3) Zhao, D. H. et al. J. Vet. Pharmacol. Ther. 2013; 36: 313–319
(4) Lang, I., Rose, M., Thomas, E. & Zschiesche, E. Rev. Med. Vet. 2002; 153 (8-9): 575-580