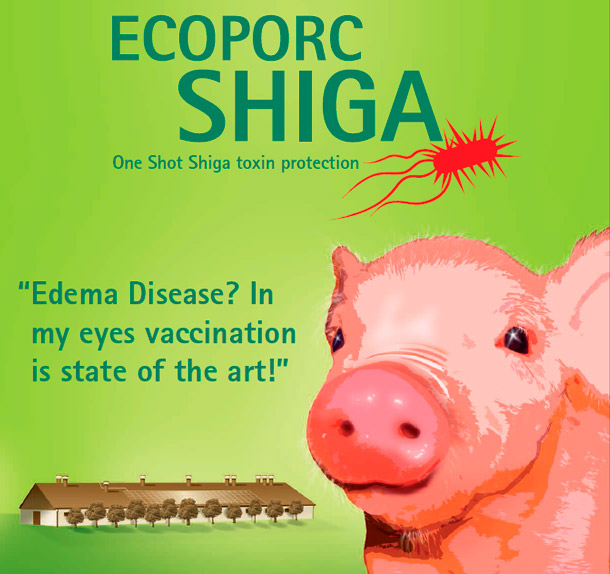 Shiga toxin: the causative agent of Edema Disease
Profile
Pathogen:
Shiga toxin-producing E. coli strains (STEC/VETC)
Risk factors:
Transport, stress, moving, change of housing, change of feed, discontinuing the application of oral antimicrobials and / or zinc oxide
Course of the disease:

•

Subacute / acute


•

Prolonged course


•

Sporadic occurrence


•

Increased losses within a given time period
Clinical signs:
Edema of eyelids, bridge of nose and larynx, croaky squealing, convulsions, ataxia, lateral position with paddling limbs, increased number of runts, sudden death
Gross pathology:
Edema can appear in all organs (e.g. gallbladder bed, mesocolon, bridge of nose, front head), mesenterial lymphnodes can be enlarged
Histopathology:
Edema of the brain (esp. in acute cases), vascular lesions (esp. in prolonged cases)
Impacts:
Increased number of deaths and runts, decreased daily weight gain, inhomogeneous groups of animals, psychological pressure for farmers and caretakers
Consequences:
Increased use of antimicrobials and / or zinc oxide:


•

Risk of developing resistance and recurrence

Restricted weaning diet:


•

Genetic potential will not be fulfilled, prolonged nursery, inhomogeneous groups of pigs, impacts also for the finishing period
Shiga toxin: leaves distinct marks
Detection rate of Shiga toxin-producing E. coli in farms suspicious for Edema Disease in a German
nationwide field study.1

Number of farms with detection of Shiga toxin-producing E. coli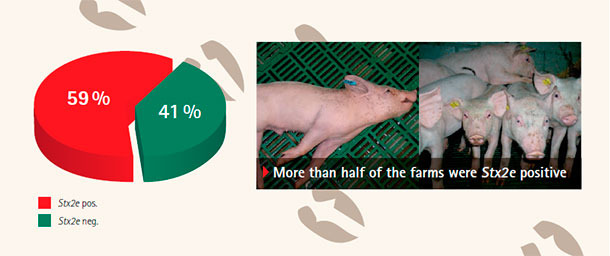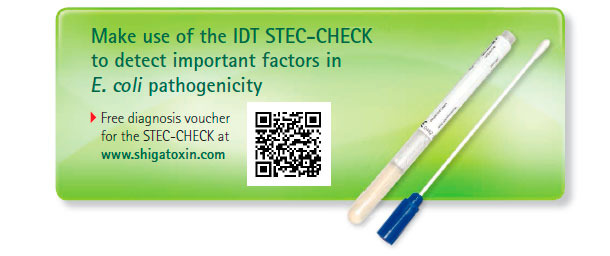 Effects of the vaccination in nursery period1
Field study: Performance data of vaccine and control group in comparison

►

Proven reduction of total losses down to a quarter


►

Increase of high quality piglets


►

Improved performance


►

Increase of the daily weight gain

Data from nursery*

Control group (6 months before vaccination)

ECOPORC SHIGA group (6 months after vaccination)

Mortality rate (%)

8.5

2.2

Number of runts (%)

5.4

1.9

Days in nursery

53.4

51.3

Daily weight gain (g)

390

410
* on average of all evaluable farms
ECOPORC SHIGA: profit for you and your clients!
Field study: return on investment calculation based on
the average of the collected data.
►Example farm: A piglet producer with 440 sows and 27.4 weaned piglets per sow and year who has a mortality rate of 6.3 % due to ED will have after vaccination a ROI of 105 € per sow per year or 3.83 € per weaned piglet.*
►Even if the mortality rate is only 2.5 % due to ED, the ROI will be 45 € per sow and year or 1.64 € per weaned piglet.
* costs of the vaccination already substracted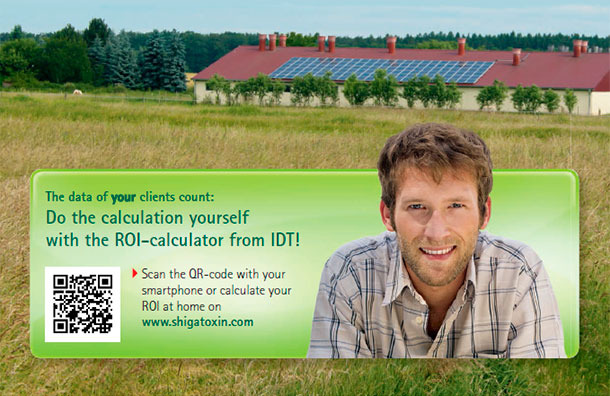 ►One-time vaccination from the fourth day of life – protection up into the fattening period

►Field studies conducted in the whole of Europe show:

Reduction of the use of antimicrobials

Boosts the start of nursery period

Feeding according to genetic potential gives you more and higher quality piglets

►The one-time vaccination from which you benefit again and again
Nothing is as natural as the pig's own immunity. Actively boost the inherent immunity against Edema Disease by vaccination.
Sources:
1 K. Lillie-Jaschniski, M. Köchling, T. Lindner: Erste Erfahrungen mit dem Einsatz von ECOPORC SHIGA, der neuen Vakzine gegen Ödemkrankheit – Auswertungen aus Feldversuchen in Deutschland; Tierärztl. Umschau 68, 377-382 (2013)
ECOPORC SHIGA suspension for injection for pigs. Qualitative and quantitative composition: Each dose of 1 ml contains: Active substance: Genetically modified recombinant Stx2e antigen: ≥ 3.2 x 106 ELISA units. Adjuvant: Aluminium hydroxide max. 3.5 mg. Excipient: Thiomersal max. 0.115 mg.
Indications for use: Active immunisation of piglets from the age of 4 days, to reduce the mortality and clinical signs of oedema disease caused by Stx2e toxin produced by E. coli (STEC). Onset of immunity: 21 days after vaccination.
Duration of immunity: 105 days after vaccination.
Contraindications: Do not use in case of hypersensitivity to the active substance, to the adjuvant or to any of the excipients. Adverse reactions: Commonly very small local reactions such as mild swelling at the injection site (maximum of 5 mm) may be observed, but these reactions are transient and subside within a short time (up to seven days) without treatment. Clinical signs such as temporary mild behavioural disturbances can uncommonly be observed after application of ECOPORC SHIGA. Commonly a slight rise in body temperature (maximum of 1.7 °C) may occur after injection. But these reactions subside within a short time (maximum of two days) without treatment.
Withdrawal period: Zero days. Under veterinary prescription only.
Marketing Authorisation Holder: IDT Biologika GmbH, Am Pharmapark, 06861 Dessau-Rosslau, Germany.
Shiga toxin causes more than Edema!

Nothing is as natural as the pig's own immunity.

The one-time vaccination from which you benefit again and again.
IDT Biologika GmbH
Am Pharmapark • D-06861 Dessau-Roßlau
Tel. +49 (0) 34901 885 5000 • www.idt-biologika.com
www.shigatoxin.com