A guide to oedema disease in pigs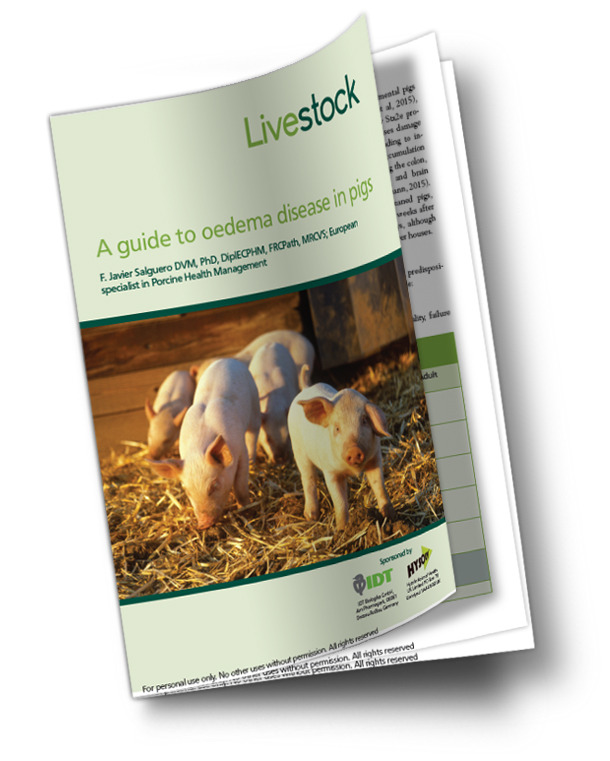 A guide to oedema disease in pigs
F. Javier Salguero DVM, PhD, DiplECPHM, FRCPath, MRCVS; European specialist in Porcine Health Management
Oedema disease (OD) in pigs, also known as 'bowel oedema' or 'gut oedema' is a widespread lethal disease affecting pig production worldwide (Fairbrother and Gyles, 2012). The disease occurs sporadically, and is present in an estimated 10% of pig holdings, in well-developed pork production countries; it can cause high economic losses in modern production systems (Fairbrother et al, 2005; Neumann et al, 2015).
Escherichia coli cause a wide range of diseases in pigs of different ages, including OD (Table), which occurs as a result of toxins produced in the small intestine of pigs by certain pathogenic serotypes of E. coli. Those associated
with OD use fimbrial adhesin F18 (F18ab is characteristic of OD strains), which mediates colonisation, and produce the shiga-like toxin (SLT-IIe, Stx2e, verotoxin, OD principal, neurotoxin, or vasotoxin) (Moxley, 2000). Purified Stx2e given intravenously to experimental pigs results in typical OD (Neumann et al, 2015), and OD is known to be caused by Stx2e producing strains of E.coli. Stx2e causes damage to small arteries and arterioles leading to increased vascular permeability and accumulation of oedema at various sites, including the colon, stomach, small intestine, eyelids, and brain (Moxley and Duhamel, 1999; Neumann, 2015).
OD mostly affects recently weaned pigs, and disease is generally seen 1 to 2 weeks after weaning, the peak being at 10 days, although cases can occur through to the grower houses.
A new guide to oedema disease in pigs written by F. Javier Salguero DVM, PhD, DipIECPHM, FRCPath, MRCVS, a European specialist in Porcine Health Management is now available free of charge from Hysolv Animal Health UK Limited.