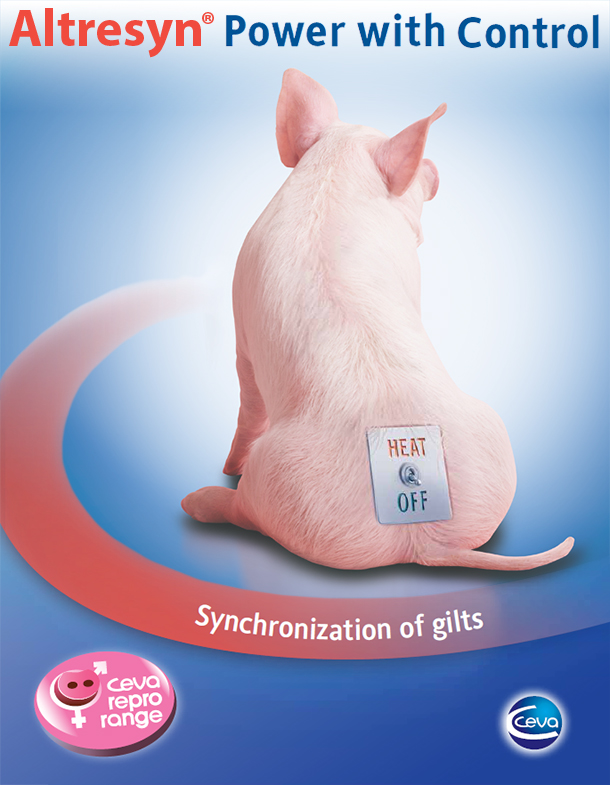 Altresyn® Power with Control
Altresyn® leads suppression of the oestrus during the whole treatment which allows:
Scheduled reproduction
Optimised productivity
Improved pig flow and herd health
Altresyn® is the answer to your reproductive needs. An 18 day treatment regimen with Altresyn® will bring your gilts into heat within 5-7 days of completion, thus facilitating heat synchronization and batch management.

In a farm without Altresyn®
We have to depend strictly on nature for sequencing breeding and farrowing schedules.
Continually checking oestrus.
Inseminating at varying schedules.
Having manpower available seven days a week.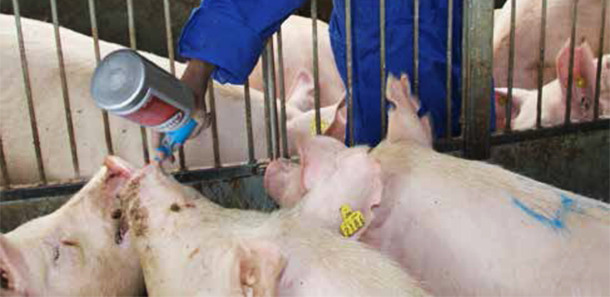 Using Altresyn®
More efficient breeding.
More efficient gilt pool management.
More efficient use of labor and more predictable pig flow.
Synchronization of oestrus in gilts
Treatment with Altresyn® can be started in any phase of the gilt's oestrus cycle:

Regardless of the phase of the oestrus cycle when you start administering Altresyn® gilts will come in oestrus smultaneously within 5-7 days after the treatment.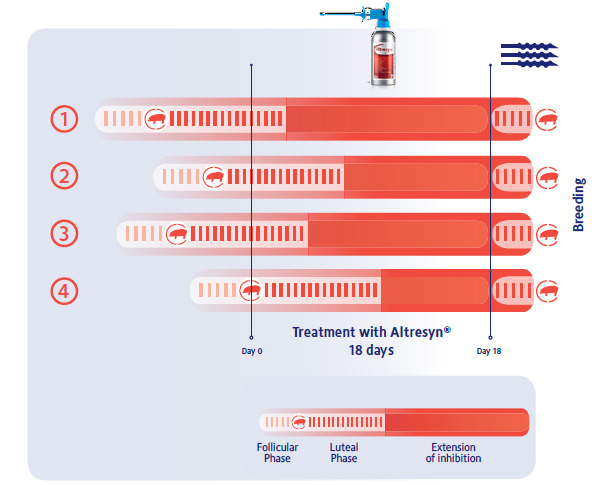 The Altresyn® treatment period is fixed to 18 days to cover everytime the whole luteal phase, even if the treatment has started in the follicular phase. At the time of Altresyn® withdrawal, all gilts are at the same physiological status. Follicular growth will start again after the break of the inhibition of gonadotropin hormones associated with the withdrawal of Altresyn®. The follicular phases of all gilts receiving the treatment will be synchronized and oestrus will appear with ovulations over the next 5-7 days.
The Danish Experience1,2 with Altresyn®
A recent study performed in Denmark in a farm unit of 1200 sows with a weekly batch management using
Altresyn® to synchronize gilts demonstrated outstanding results on the farm in terms of:
Better flow of breeding animals
More homogenous batches
Increased output of weaned piglets
Significant saving in gilts feed
Synchronization of estrus
Farrowings of 42 batches with synchronized gilts were compared with previous 40 batches, when gilts were
inseminated in 2nd spontaneous heat.
Out of 816 gilts treated with Altresyn®, 758 were successfully mated (93%) with high rate of synchronization.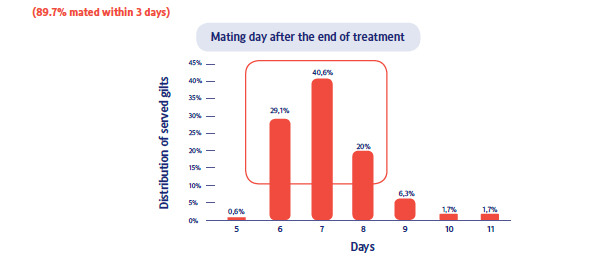 Better distribution of ages at first services and reduction of overall feed costs in gilts
Reduction of the average mating age in the gilts per year by 18 days (from 259 to 240). A saving of 10-15 € of feed per gilt/year

The distribution of the age at first service was more appropriate after the synchronization with less matings of elder gilts.
Reduction of variability for mated gilts and sows among weeks
The N° of weekly inseminated gilts increased from 13.2 to 15.3 (p<0.05) and the variability among weeks
decreased significantly (p<0.0001). There was also significantly lower variance before synchronization and after
in terms of weekly served sows and gilts together (p<0.005).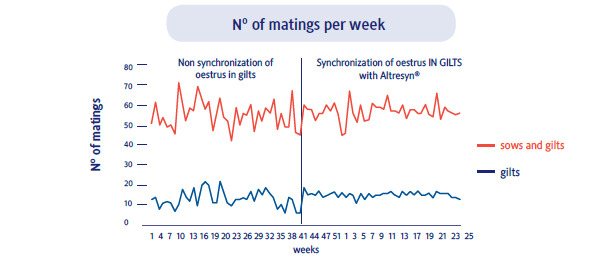 More N° of farrowings
As the result the weekly N° of farrowings increased from 50.8 to 53.5 (p<0.05) and became more even as well (p<0.05)

More weekly weaned piglets on average
Better filled farrowing rooms with less divergence resulted in the increase of on average 27.5 piglets weaned
weekly (p>0.05). The reproductive performance of P1 sows treated as gilts with Altresyn® was similar as
before with the conception rate 92.1% and WOI 5.3 days compared to previous results of 91.4% and 7.8 days.
Weekly weaned piglets
Before
Altresyn®
Difference
714,6
742,2
27,5
Altresyn® Use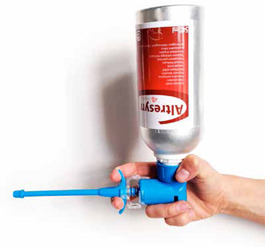 1. Instructions of use.
Press the dispenser pump to the bottle upside down.
The release comes out the exact dose of 5 ml = 20 mg altrenogest/gilt.

2. Individual dose.
Should be applied one dispensing pump pulsation per gilt and day.
3. It is recommended to apply the product at the same time every day (first action in the morning).
4. Duration of treatment.
Altresyn® must be administered each day of treatment:
18 days for nulliparous.
If we stop using it one day, effectiveness may decline.
5. For the suppression of treatment (Day 18).
It is essential to set the date of the start of mating and withdraw Altresyn® treatment about 5 days before.
(Usually coincides with the day of weaning of the batch).
Scheduled reproduction
Optimised productivity
Improved pig flow and herd health
Bibliography:
1. Gunner Sørensen. Best practice in the gilt unit. Congress for pig producers. Herning 2013.
2. N. Thing, New ways to evaluate the benefit of gilts synchronized by Altresyn® on the flow of breeding animals and the piglet output.
ESPHM Proceedings 2013
Altresyn® Altrenogest - Oral solution
Composition. Oral solution. Altrenogest 4.00 mg. Excipients: Butylhydroxyanisole (E320) 0.07 mg. Butylhydroxytoluène (E321) 0.07 mg. Indications Pigs (sexually mature gilts). For the synchronization of oestrus. Contra-indications Do not administer to pregnant animals or lactating animals or those suffering from uterine infection Do not administer to male animals. Ensure the correct dose is administered daily as under-dosing can lead to the formation of cystic follicles. Special precautions to be taken by the person administering the veterinary
medicinal product to animals. Avoid skin contact with the product. Pregnant women and women of childbearing age should avoid contact with the product or should exercise extreme caution when handling this product. Accidental spillage on the skin should be washed off immediately with soap and water. Seek medical advice. Dosage Oral use. 20 mg Altrenogest (5 mL) per animal once a day for 18 consecutive days. Animals should be segregated and dosed individually. Add the product as a top dressing to the feed using the metering pump. Withdrawal period Meat and offal: 9 days. Presentation and storage Carton of 1 container of 360 ml pressurized container and carton of 3 containers of 360 ml pressurized containers or 1080 mL and 540 mL non-pressurized containers. Protect from sunlight and do not expose to temperatures exceeding 50 °C.
Ceva Santé Animale 10, av. de La Ballastière 33500 Libourne.
The Summary of Product Characteristics (SPC) may differ per country. Please check local SPC before using the product