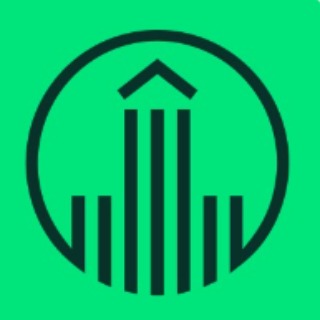 COMBAT: It is a perfect time to review the biosecurity in every farm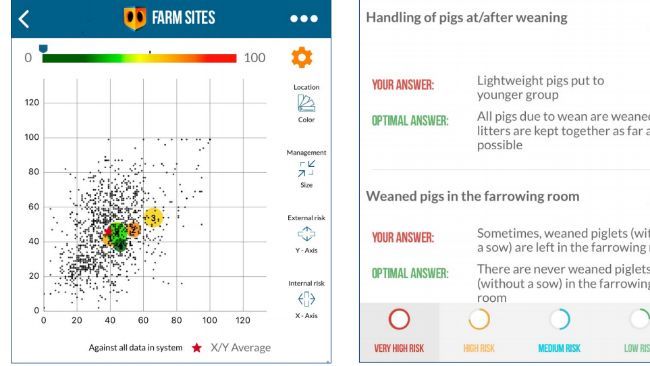 COMBAT enables us to understand current constraints by ANALYZE, VISUALIZE, BENCHMARK, and GUIDE TO IMPROVE Biosecurity and Management in farms.
COMBAT can help you to evaluate and benchmark the biosecurity on your farm, a crucial step in every health program.
This poster was presented at the ESPHM 2018
A new tool for fast evaluation and benchmarking of biosecurity, pig flow and management
Rathkjen PH, De-Paz Solanes X, Huang N, Gomez-Duran O, Mondaca E, Maala C
INTRODUCTION
COMBAT (Comprehensive Online Management and Biosecurity Assessment Tool)1 is a new app developed by Boehringer Ingelheim Vetmedica to help farmers and veterinarians to evaluate and improve the level of biosecurity, pig flow and management procedures and benchmark against other farms. COMBAT is based on a detailed set of 55 questions to be answered directly in the application.
MATERIALS AND METHODS
This study is based on more than 1000 COMBAT's (questionnaires) from 46 different countries globally. The relative risk of not being able to prevent, control or manage a PRRSV infection is calculated in 4 categories. The risk evaluation output is visualized in a circle chart, fig.1. Feedback is given to each category and categorized as very high, high, medium and low risk, to facilitate discussion of behaviors and prioritize fields of importance, fig 2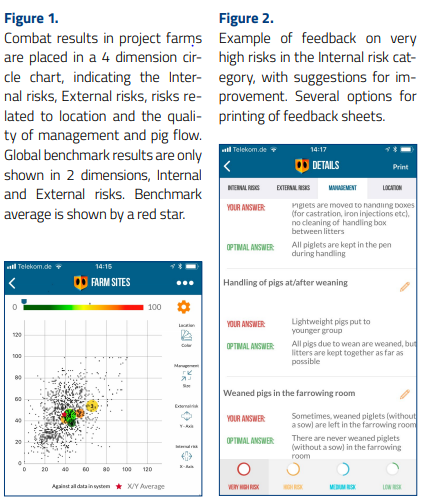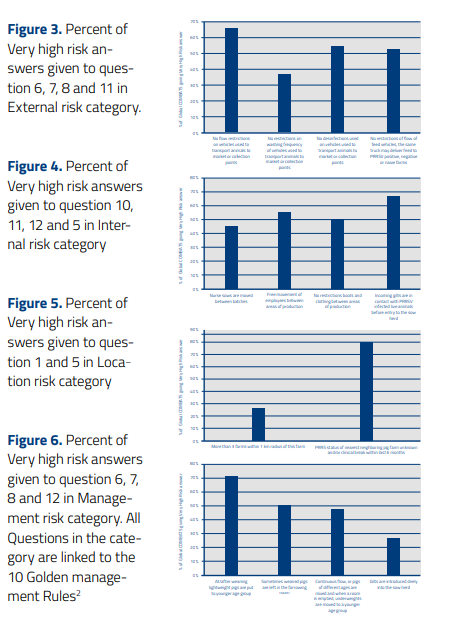 RESULTS
Very high risky behaviours were identified regarding;
• External biosecurity Fig 3;
• Internal biosecurity Fig 4.
• Location; Fig 5.
• Management and pigflow; Fig 6
DISCUSSION AND CONCLUSION
Majority of farms does not know the status of their neighbors. Attention to flow and cleaning of vehicles between PRRS negative and positive farms is often questionable. This plays an important role to minimize the risk of introducing PRRSV (and other viral diseases as ASF). Internal biosecurity assessment reveals that, people are often moving unrestricted without boot or clothes change around in the farm. Mixing of pigs happens at several time points and still many farms introduce gilts directly into the sow herd. COMBAT facilitates improved biosecurity, pig flow and management practices, by highlighting the most important risk areas related to PRRS incidence. Successful PRRS control must incorporate measures to reduce the risk of new virus introduction (external risks) and improve the ability to control PRRSV internally on a farm/site/area. Immediate feedback encourages and veterinary advisers to address risky behaviors on the actual production site.
More info at : Prevention Works