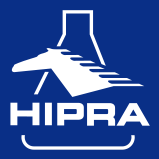 Data protection
USER data will not appear next to the answer, but will be included in the Laboratorios HIPRA, S.A. database.
In accordance with European rules and regulations regarding to personal data and to the free circulation of these data and the local rules that develop them, the personal data that you wish to provide to us will be included in the database that belongs to HIPRA and for which this company is the party responsible. These data will be processed exclusively for the purpose described in the corresponding data collection form (by sending your data, you freely consent to the processing of these data for these purposes).
Personal data that you provide to us will not be transferred to any third party, and will only be employed to send you, should you wish so, information on products, resources, articles, news, reports, developments or any other relevant information concerning the animal health sector.
You may exercise your right to opposition, access, rectification and/or removal, under the terms laid down in current regulations, by writing to HIPRA. Our Data Protection policy may change to adapt to the legislation in force and to the applicable criteria of protection. We will keep you informed of any changes through this website. For any inquiry or comment with regard to this issue, please contact us personally, either by ordinary post or by e-mailing hipra@hipra.com.