Area
I want to sell in Ukraine
Classified advertisement
seen 2 times
Consultant for pig products
JOSERA has been successfully involved in the animal nutrition and foodstuff segments for more than 70 years. As a midsize family company, JOSERA is always developing further. The company is dedicated to sustainability, innovation, responsibility and safety!
Product Futura Protectin® (3%) for fattening pigs is an ideal mineral feed supplement for pigs farm mixtures to achieve a high daily weight gain and a high lean meat content.
Product features:
• active ingredient combination Protectin® • very high levels of four essential amino acids • addition of xylanase + glucanase (non-starch polysaccharide- cleaving enzyme) • optimal vitamin equipment • organically bound copper, zinc and manganese • highly available minerals The natural active ingredient combination Protectin® helps through its protective effect to maintain high performances and healthier pigs. So that you can exploit the full performance of your animals.
Product declartion is attached.

Attachments

PB_ENU_Futura_24.pdf (199KB)
downloaded 32 times
download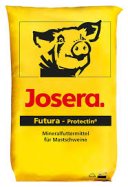 завантаження (2).jpg (14KB)
downloaded 68 times view 19 times
download see
User
Advertiser's data information